Dr. R. Jampa Wurst, born in 1962 in Ludwigsburg (Württemberg). Daughter of Christiane Wurst-Egerer (headteacher of a primary and special needs school) and Werner Robert Wurst (chef and passionate artist, 1915-1996).
With my parent's guidance, I discovered my passion for continuous learning, music, art, and staying open to my own fantasies, not afraid of pushing boundaries.
After primary school, I attended the Friedrich-List-Gymnasium (a German high school) in Asperg (Württemberg). The principal of this school and an art teacher allowed me to unfold my creative potential.
Art and my life
The first painting shows a modified Ernst Ludwig Kirchner ('Five Women on the Street', 1915). These women are surrounded by short and fat men. The other painting combines two pieces of Van Gogh: 'Olive Grove' (1889) and 'A Pair of Shoes' (1886). Who might have forgotten their boots at the olive grove?
I explained to my former principal Kurt Gutjahr (1930-2019) that he could only get rid of the disrespectful sketches on his school's walls by painting them. He agreed and gave me the opportunity to paint the walls. In fact, the painting stayed untouched for years.
A few years ago, he surprised me with a note in my guestbook – he truly made an effort to find me after all these years.
"dear Rotraut,
thank you for your nice letter and the congratulations on my birthday. I completely forgot about the 'bebbadaggelichen' memory hook! Due to a longer trip to and through New Zealand, I discovered your website just now. I always thought that your path might look like it does: everything and more, a little bit risky but adventurous paired with scientific insights – a fabulous mix in my opinion.
Congratulations on this unconventional way! I hope you'll always have the necessary persistence to attain success and deep content.
Yours, Gj."
translated guestbook entry by GJ, 27.05.2011 at 14:27.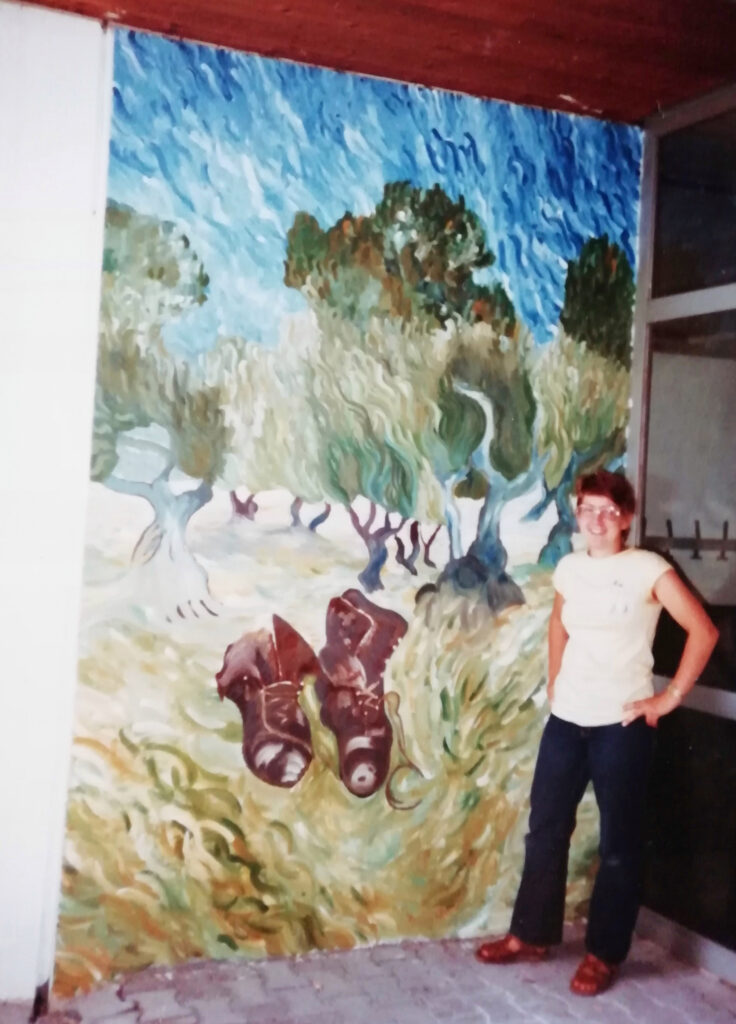 But there was also another teacher who encouraged my enthusiasm for art: Roland Wesner (1940-1987), artist, art teacher, and co-founder of the art club Ludwigsburg.
As my teacher in the senior years of high school, he encouraged me to pick up art as one of my final exams and supported me in my desire to study art at the university.
I already finished my application portfolio, but my mother put a veto on it. She demanded that I follow a 'real career'.
Years later, at my father's 80th Birthday, I learned that he, who always supported my creative vein, went to art school for two terms until he struggled financially. As a result, he started a career as a chef to assist his mother in her restaurant, the 'Ratskeller' in Ludwigsburg. Cooking became art for him and many people came to enjoy his multi-course meals.
As a left-hander himself he taught me – a fellow left-hander – how to use scissors and other tools for right-handers so I could embrace my art in every way I wanted to.
Ever since I could think and hold a pen, art has been an important part of my life.